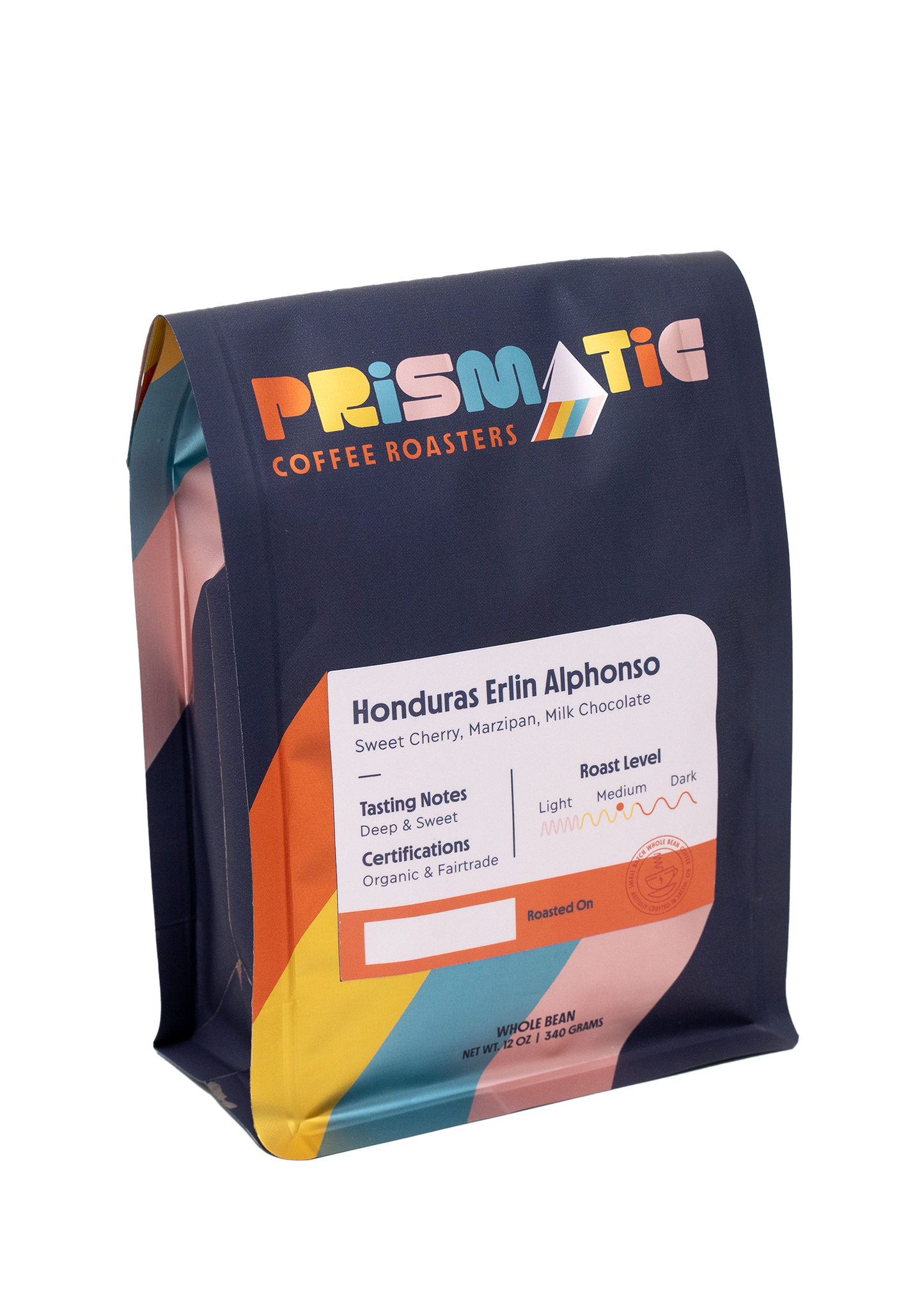 Regular price
$17.00 / Bag
Sale price
$17.00 / Bag
Regular price
SALE
SOLD OUT
$0.00 USD
Unit price
per
DESCRIPTION
Here is a rare opportunity to taste a next generation producer and COMSA - one of the most innovative coffee organizations in Honduras. It starts with a concept called Finca Humana (the Human Farm) at Café Organico Marcala, S.A. (COMSA), where the wellbeing of human... READ MORE
Here is a rare opportunity to taste a next generation producer and COMSA - one of the most innovative coffee organizations in Honduras. It starts with a concept called Finca Humana (the Human Farm) at Café Organico Marcala, S.A. (COMSA), where the wellbeing of humans is the core objective and educating more than 1,500 producer-members to successfully live in harmony with nature is everywhere. At La Fortaleza, the COMSA biodynamic demonstration farm, the focus of transferring knowledge takes place through week-long seminars called Pata de Chucho (pawprints left by a stray dog), which aptly reveals COMSA's dogged exploration for human productivity in harmony with nature. The trailblazing ideas for using organic matter to productively cultivate high quality coffee is only a sliver of what COMSA teaches about the power of nature through the Finca Humana philosophy. COMSA dedicates funding from the proceeds of coffee sales to run a cutting edge International school dedicated to filling children's minds with possibility, and training them to be the future leaders of Finca Humana. And one of those young leaders is Erlin Alfonso Nolasco Vásquez, now in his twenties, was brought up with the COMSA philosophy. He has his own farm called La Penca de Burro, where he cultivates coffee with organic farm management practices he learned at COMSA. Erlin also practices meticulous post-harvest standards of hand sorting cherry, cherry floating to remove less dense and damaged beans, proper fermentation, and long drying times. He uses the honey process, which skips the washing stage to conserve water use. The results are an outstanding coffee worthy of being a single producer micro-lot.
READ LESS
Tasting Notes:
Cherry, marzipan, milk chocolate
Certifications:
Organic & Fairtrade
View full details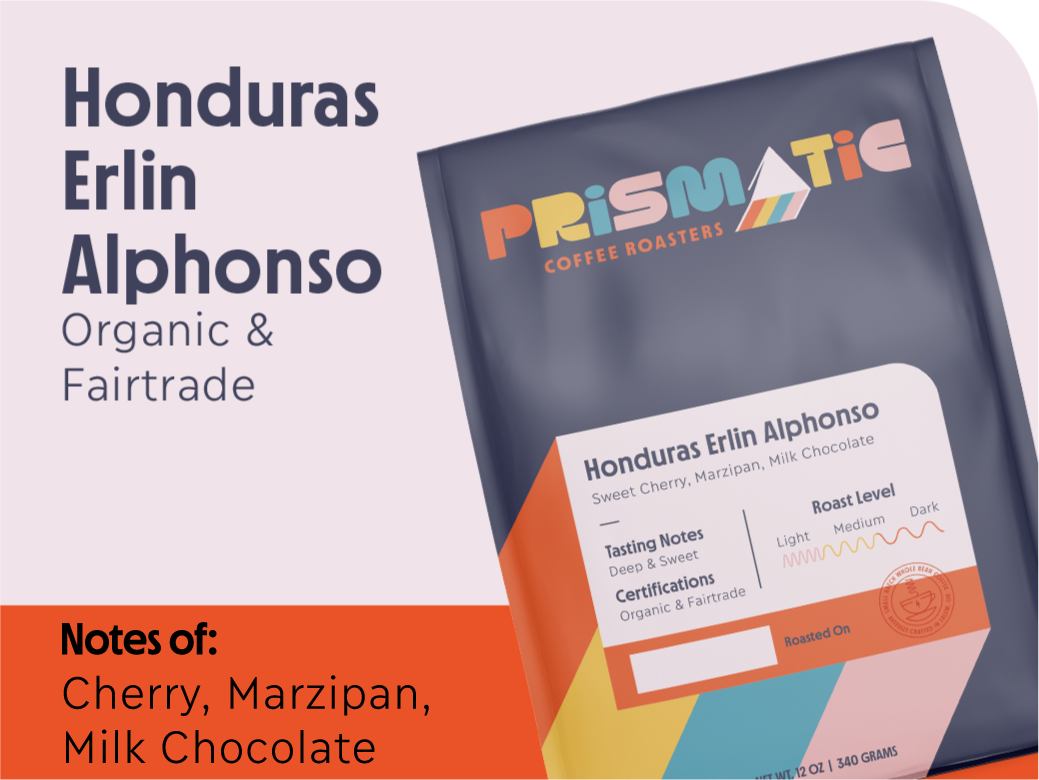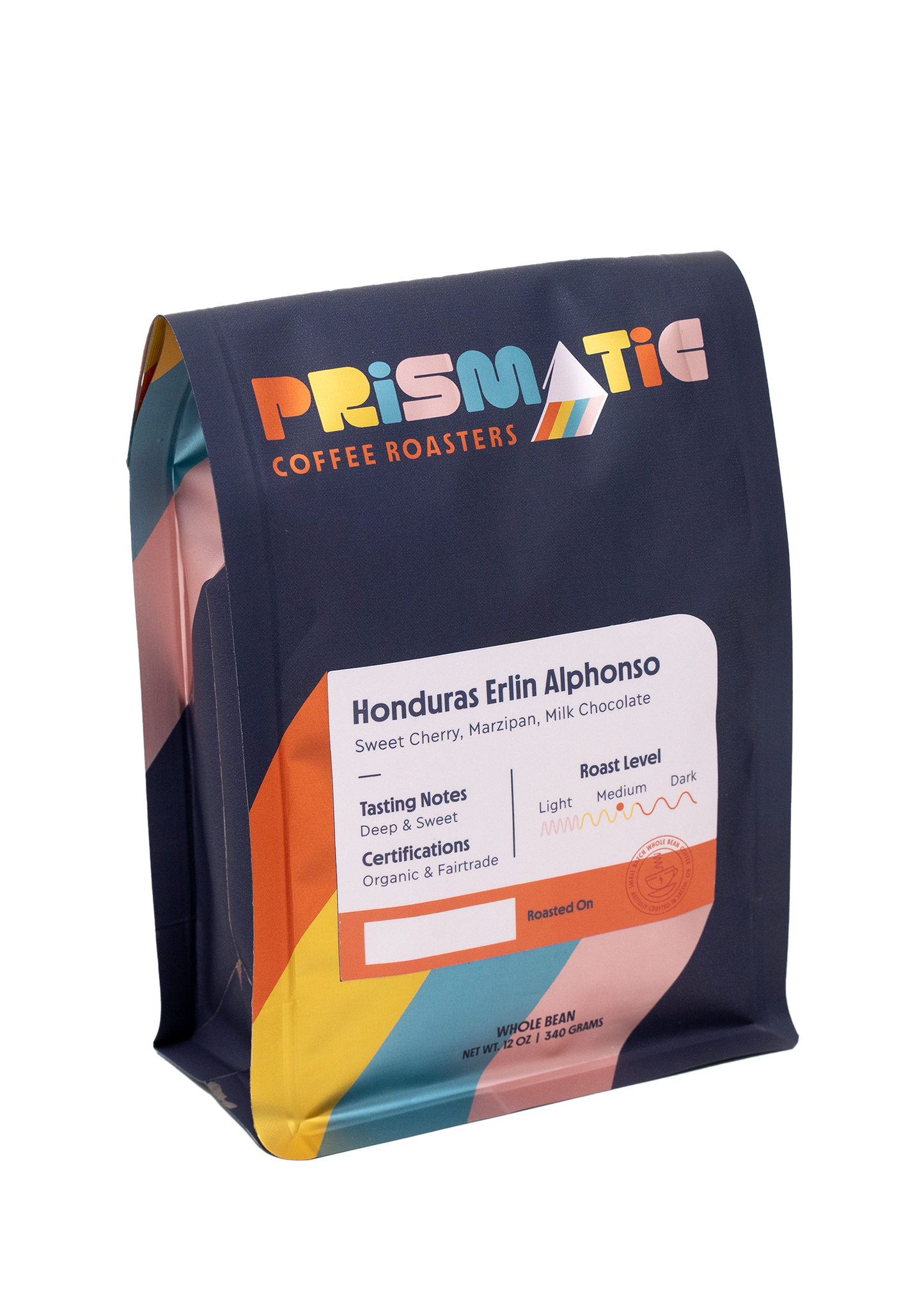 THE PRISMATIC PROCESS
We know that a global agricultural product like coffee has large social, economic, and environmental footprints and we take our responsibility as a part of the chain from farm to cup seriously.our goal is transparency and accountability in our sourcing, roasting, certifications, and shipping. We source organically grown beans from around the world, roast them in small batches and ship them directly to your door or your favorite store.

As we grow we will work within our supply chain to become carbon neutral and minimize our impact on the Earth. Our coffee (and our forthcoming Cold Brew) are available in 100% recyclable cans since most "recyclable" coffee packaging can only be processed inexpensive, specialized facilities. If you have any questions or suggestions on how we can improve our process, reach out and let's talk!
COFFEE SUBSCRIPTIONS
Prismatic can deliver fresh-roasted coffee straight to your door! Choose our rotating option and we'll send you the best beans from around the world, roasted in small-batches, and shipped at the peak of freshness. If you need all the flavor without the jitters, our water-processed decaf option is for you.